Podcast: Play in new window | Download (Duration: 25:37 — 17.6MB)
Subscribe: Apple Podcasts | Android | TuneIn | Spotify | RSS | More
Welcome to another episode of This is Rammy, your weekly podcast where I talk about what's going on around Ramsbottom, some would say it's a bit like What's on in Rammy but without the arguments.
Well we've gone "all in" on the potty training for our son since we started last week, he's done better than I expected. We've completely stopped putting him in nappies during the day now and he is learning to tell us when he needs the toilet so that's the biggest progress in our house.
As well as that we're still working on our house, this time trying to stop the leaking wall of the garage letting water in. A dry garage is a happy garage after all. I really shouldn't complain considering what some people had to face on Boxing Day, so I won't, but a leaking garage isn't great.
Yesterday, (Saturday) I was out and about and bumped into someone I know who I met through Ramsbottom Community Hub, Ian "Wellsy" Wells. It's funny but I've bumped into Ian or his wife Hannah many times when I've just been on my way into Rammy, usually they're walking their dog Jasper.
However, I'm missing the point, Ian mentioned Northern Grip that he's involved with, I'm not sure if you've heard but Northern Grip is a festival for Ramsbottom which is all about Mountain Biking, bikes, the gear, tracks and just the social aspects of it too. He said it's going really really well, that the tickets are flying out, so, what I'm trying to say is get your tickets quick if you are interested in it. I'll give you the dates a little later in the events section but it's great to see another quirky event popping up on Ramsbottom's calendar.
Did you see the April Fools prank that nobody was fooled by? Well, again I dreamt up a scenario which wasn't too unlikely, at least that's what I thought but you all smelled a rat straight away.
Here's a link to this years April Fools joke
I'll have to be honest, I'm not sure why more people believe that a Hooters might move into Ramsbottom compared to a Wetherspoons though.
News:
Ramsbottom Cricket Club receive £12,000 for flood repairs.
30 Play Areas around Bury to be revamped in £800,000 renovation scheme.
Half of the play areas are due to be revamped with damaged and worn equipment being repaired or replaced where required. I'm not sure that amount will quite cover the works required in a lot of the parks simply due to the cost of equipment but it's certainly about time money was spent on these parks.
One thing I did notice that might be an omission is that Top Park which I reported on last year as being dangerous and needing attention doesn't appear to be on this list of parks, I just hope it wasn't an exhaustive list and it will get the works which were mentioned by Bury Council in a recent email to me.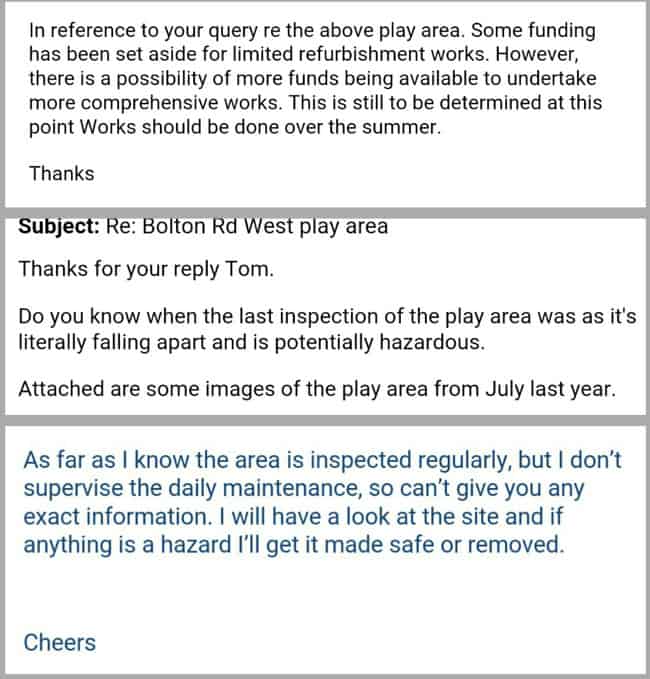 Upcoming Events:
Here are some of the upcoming events on the Ramsbottom calendar, check out the events calendar here for most upcoming Ramsbottom events.
Animate: Stop motion at Ramsbottom Library
April 12 @ 4:00 pm – 5:00 pm
£1
Northern Grip – 23rd and 24th of July
July 23 @ 10:00 am – July 24 @ 5:00 pm
£25
East Lancs Railway have always got something going on, check their Facebook events page for some great events coming up.
Links:
Thanks for listening to this week's podcast, as always you can subscribe to the podcast here which will automatically keep you upto date in your favourite podcast player.
Reviews are very much appreciated, if you would like to leave a review, you can do so easiest in iTunes or on the UK Podcasters page.
If you would like to support This is Rammy by becoming a Patron, please checkout the Patreon page here.